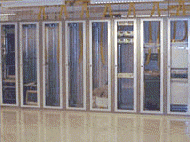 Housing your servers in your own offices is not always the most economical or flexible solution.
That is why we offer server-hosting services in our fully equipped technical centres that have high-capacity links to the Internet.

This not only offers you a powerful solution adapted to applications in production mode, but it also provides flexibility in the level of service you want to offer your visitors.